Bennachie Lodge Hotel
Welcome to Aberdeenshire
Bennachie Lodge Hotel is located in Kemnay near Inverurie in Aberdeenshire just 16 miles from Aberdeen City Centre, 13.5 miles from Aberdeen Airport and just on the doorstep of Aberdeen's oil industry making our hotel the perfect location for both working and relaxing.
---
Originally, the Bennachie Lodge Hotel was a Manse built to accompany Kemnay Church in the late 1700's before it was converted into a hotel in 1971. The hotel has recently been bought and refurbished by some local community families.
---
We do everything to ensure your stay is a comfortable, enjoyable and memorable one. Each of our eight beautifully refurbished luxury bedrooms are named after one of the historic castles that surround the foothills of Bennachie so that when you visit us you might find yourself taking up residence in the Pitcaple room, the Cluny room or the Lickleyhead room..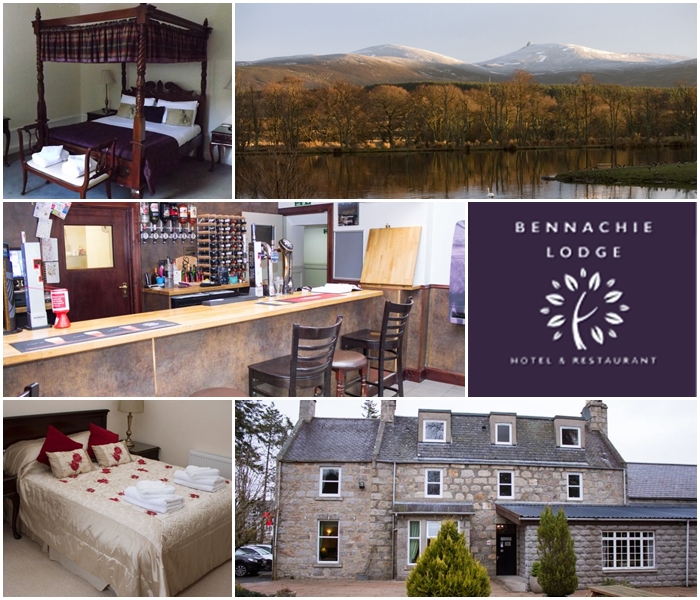 Équipements
Bar
Aire de pique-nique ou BBQ
Internet gratuit WiFi (sans fil)
Salon
Restaurant
Mariage et évènements
Internet WiFi (sans fil)
Parking
Parking sur place
Parking gratuit
Aménagements pour les enfants
Menu pour enfants
Chaises hautes
Espace de jeux pour enfants
Diner
Petit-déjeuner (continental)
Petit-déjeuner (complet)
Déjeuner
Dîner
Activités et Experiences
Cyclisme
Football
Golf
Alpinisme
Tennis - extérieur
Randonnée pédestre
Accessibilité
Entrance to the building is entirely flat. Stairs to all levels have handrails.