Bennachie Lodge Hotel
Welcome to Aberdeenshire
Bennachie Lodge Hotel is located in Kemnay near Inverurie in Aberdeenshire just 16 miles from Aberdeen City Centre, 13.5 miles from Aberdeen Airport and just on the doorstep of Aberdeen's oil industry making our hotel the perfect location for both working and relaxing.
---
Originally, the Bennachie Lodge Hotel was a Manse built to accompany Kemnay Church in the late 1700's before it was converted into a hotel in 1971. The hotel has recently been bought and refurbished by some local community families.
---
We do everything to ensure your stay is a comfortable, enjoyable and memorable one. Each of our eight beautifully refurbished luxury bedrooms are named after one of the historic castles that surround the foothills of Bennachie so that when you visit us you might find yourself taking up residence in the Pitcaple room, the Cluny room or the Lickleyhead room..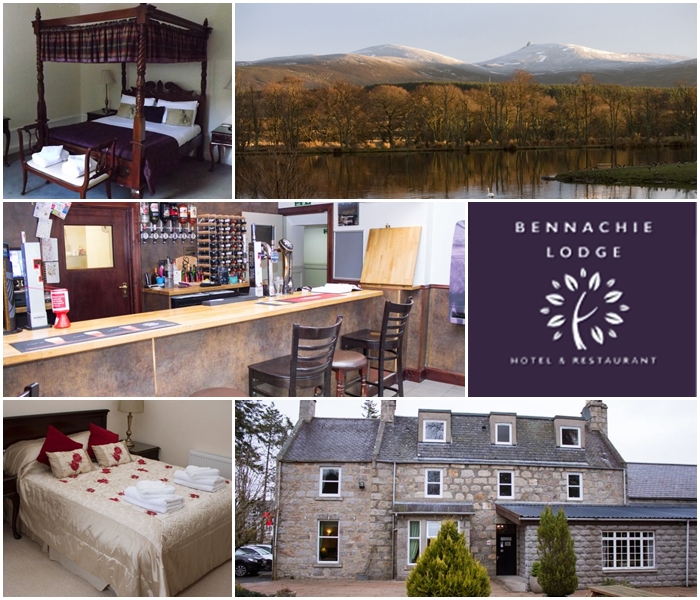 Instalações
Bar
Zona de churrascos/piqueniques
Internet sem-fios/wifi gratuita em zonas públicas
Salão
Restaurante
Casamentos
Ligação à Internet (sem fios)
Estacionamento
Estacionamento próprio
Estacionamento grátis
Instalações para Crianças
Menu para crianças
Cadeiras de bebé
Zona para as crianças brincarem
Jantares
Pequeno-almoço (Continental)
Pequeno-almoço (Cozinhado)
Almoço
Jantar
Actividades
Ciclismo
Campo de futebol
Golfe
Montanhismo
Campos de ténis - exterior
Caminhada
Acessibilidades
Entrance to the building is entirely flat. Stairs to all levels have handrails.